Staff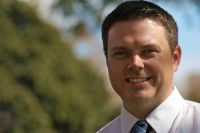 Mark C. Nowlin, DPT, OCS, CSCS
Mark C. Nowlin, DPT, OCS, CSCS is a California licensed Physical Therapist, and a member of the American Physical Therapy Association (APTA). Dr. Nowlin has 13 years of experience specializing in orthopedic and sport medicine physical therapy. He is recognized as an Orthopedic Certified Specialist (OCS) by the American Board of Physical Therapy Specialties (ABPTS), something that less than 10% of Physical Therapists in California have achieved. He founded Power Physical Therapy and Sports Medicine in 2011.
Having completed rigorous courses of study in specialized education and through several years of active practice Dr. Nowlin has acquired extensive knowledge of biomechanics, human anatomy and human physiology. In addition, Dr. Nowlin has extensive experience assessing and treating a wide range of musculoskeletal and orthopedic conditions, including occupational and sport injuries. He works with a wide range of clients, from youth to seniors, and with athletes of all ages and at all levels, from amateurs to professionals. His specialty and treatment philosophy are to provide manual, "hands-on" treatment combined with proven exercise methods and a tailored home program to help the client achieve excellent results. Dr. Nowlin also enjoys giving back to the community by participating as an Adjunct Professor at Vanguard University in their Kinesiology Department.
He is a local resident of Huntington Beach, and in his leisure time he enjoys spending time with his wife and children, and taking part in outdoor activities like running, hiking, camping, and golf.
Education
Doctor of Physical Therapy, Boston University
Master of Physical Therapy, California State University, Fresno
Affiliations
Adjunct Professor Vanguard University
Certifications
Orthopedic Certified Specialist (OCS)
Certified Strength and Conditioning Specialist (CSCS)
Membership
American Physical Therapy Association (APTA)
California Physical Therapy Association (CPTA)
---
Jesse Stretz, Physical Therapy Aide
Jesse Stretz is one of our aides at Power Physical Therapy. Jesse is from Las Vegas, Nevada and is currently attending Vanguard University of Southern California. Jesse is working for his bachelors degree in Kinesiology with a focus in Physical Therapy, and he has hopes of continuing his schooling in a physical therapy program. In his free time, Jesse enjoys playing basketball, lifting weights, and playing in the university's jazz and classical guitar ensemble.