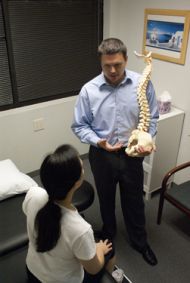 About Us
Who We Are
Power Physical Therapy and Sports Medicine opened in 2011 to help fill the growing need of quality physical therapy for the central and beach communities of Orange County, California. We are 100% physical therapist owned and offer premier orthopedic, sports medicine and spine services. We are dedicated to providing you with excellent care during your time with us, so you can resume your normal activities as soon as possible.
Our Treatment Philosophy
We are committed to providing 1 on 1 care with your Physical Therapist, manual treatments, and evidence-based exercise and home programs. Depending on your condition, manual treatments could include joint mobilization, soft tissue or muscle treatment, Proprioceptive Neuromuscular Facilitation (PNF), or stretching. Our exercise programs and home programs are built on proven techniques that are evidence (or research) based to maximize your recovery and help restore you to your highest level of function.
And most importantly, we seek to make you an active part of your recovery process. It is our desire to find out what goals are important to you during your participation in physical therapy. We also do our best to answer all your questions and provide information and education about your condition. We are committed to this because we know that when someone understands the nature of their condition, has a desired outcome in mind, and knows the steps that it will take to get there, the likelihood of recovery is much greater.
Mission Statement
To provide a unique customer service experience in a dynamic, energetic and positive atmosphere, in which each client receives personalized assessment, treatment, and education based on their specific injury or condition. The client will also experience the highest levels of personal attention and quality of care.